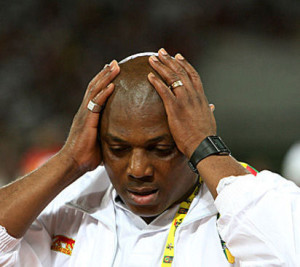 Nigeria Sports Minister Bolaji Abdullahi believes that a lot of pressure will not help coach Stephen Keshi of Nigeria but rather confuse him.
The minister knows keshi has already proved his quality as a manager-African champion and World Cup qualification– and knows what to do at the World Cup. So it would misleading for Nigeria to set him a target ahead of World Cup.
"What I wish for is for us to win the World Cup and I think that is what every Nigerian wishes for," Abdullahi admitted.
"But for talks of setting target for Coach Stephen Keshi, I don't think that is necessary because it would put him under unnecessary pressure."
This sensitization of Bolaji is secondary to the fact that pressure on the Super Eagles coach increased exaggeratedly since Nigeria is drawn alongside Argentina, Iran and Bosnia-Herzegovina in Group F the Brazil World Cup.