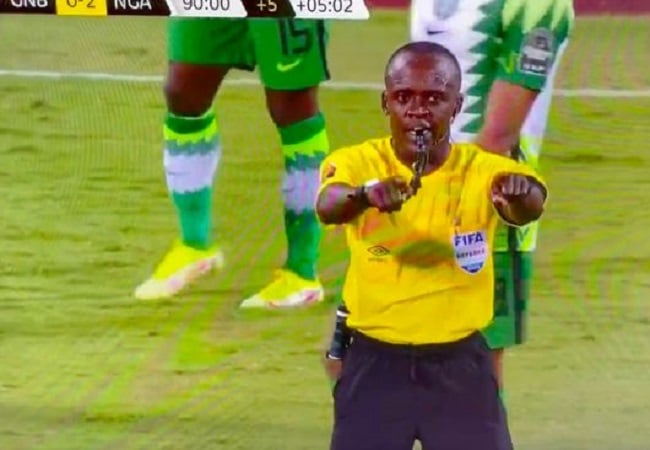 The ongoing Africa Cup of Nations (AFCON) taking place in Cameroon has everything involved from referees blowing up for full-time too early to the wrong national anthems being played. It's been quite the spectacle our TV screens since.
Also Read : MALI BEAT TUNISIA 1-0 AS REFEREE BLEW FOR FULL-TIME EARLY TWICE
The football has also been entertaining, with plenty of shocks, including current holders Algeria's departure in the Group Stage.
Also read : ALGERIA BOWS OUT OF AFCON AFTER LOSS TO ELEPHANTS
During Nigeria's win over Guinea-Bissau on Wednesday, another moment of gold was served up in the shape of referee Peter Waweru.
The Kenyan, who is also the Professor of Pure Mathematics at Jomo Kenyatta University of Agriculture and Technology in Kenya, went viral for his bizarre, yet brilliant running technique towards the closing stages of the game.
Also Read : CHAN 2020 FINAL: KENYAN REFEREE WAWERU TO OVERSEE FINAL GAME
As Guinea-Bissau began to launch a counter-attack, Waweru used his unorthodox style to keep up with the play. With high knees, a straight back and arms swinging back, he raced to keep up with the action.
Whether you criticise it or not, it proved to be effective for the Kenyan.
Supporters had also picked up another moment as Waweru blew up for the full-time whistle in a rather emphatic style.
As he blew the full-time whistle, he raised his left arm in the air, then his right, before pointing them both towards the tunnel as a signal to end the game.
His actions caught the eye of the internet, with one Twitter user suggesting that he should be offered a role in the Premier League.
"I don't care how you do it, but this man must referee in the Premier League." Said a user.
Another person meanwhile said that they enjoyed his dedication to the job.
"I like that tbh, man looks like he is trying to be a true professional." They tweeted.
Whichever game the Kenyan is reffing next, be sure that he is now likely to have his own little fan club looking out for more of this wild, yet brilliant scenes.