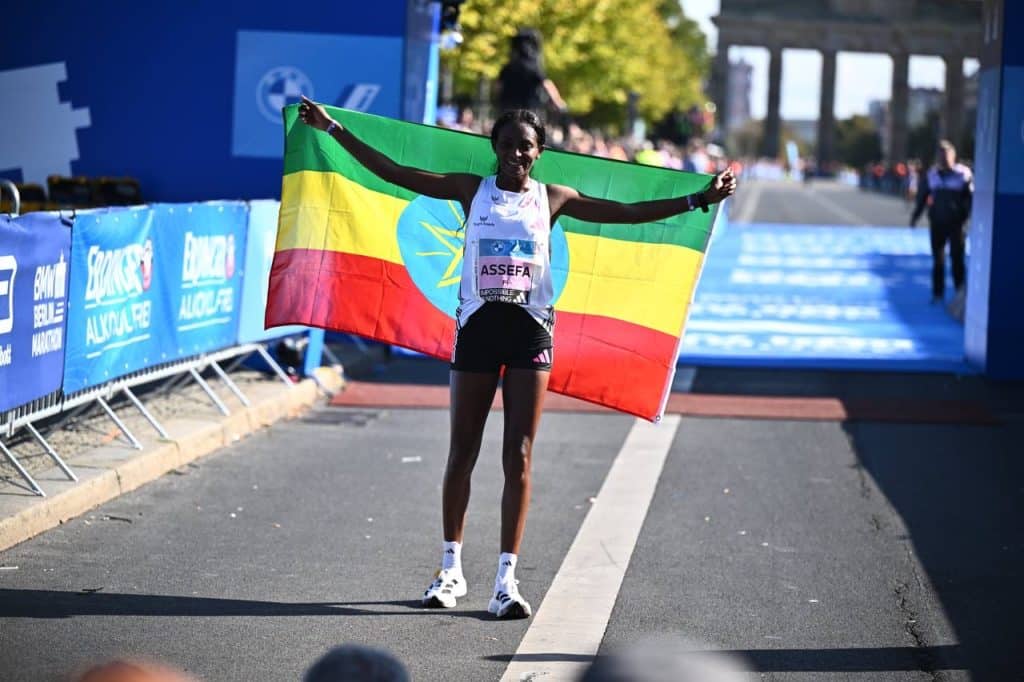 Tigst Assefa of Ethiopia broke the women's marathon world record on Sunday in Berlin, shaving more than two minutes off the old mark to finish in an official time of two hours, 11 minutes, and 53 seconds.
Assefa, who had previously broken the track record with a personal best last year, sprinted away quickly and steadily beat the previous mark of two hours, 14 minutes, and four seconds held by Kenyan Brigid Kosgei in 2019.
Her time served as a benchmark for the Olympics in Paris the following year and virtually probably secured an Ethiopian Olympic team spot for 2024.
On the short and flat inner-city course in Berlin, her astonishing triumph eclipsed men's world record holder Eliud Kipchoge's record fifth victory.
The 38-year-old Kenyan finished in two hours, two minutes, and 42 seconds, falling short of the record he established in Berlin last year. He is seeking to win his third Olympic marathon medal next year in Paris.
With a timing of two hours, three minutes, and 13 seconds, fellow countryman Vincent Kipkemoi came in second, and Tadese Takele from Ethiopia came in third.
Assefa, who only began competing in marathons in April of last year, immediately established her intentions with a breakneck pace of her own.
Workenesh Edesa, a fellow countryman, helped them open a gap from the pursuing pack, but Edesa was abandoned by the 17th kilometre because he was unable to keep up.
At the halfway point, she was one of six women running in under an hour, 20 seconds, as the Berlin marathon lived up to its reputation as one of the fastest in the world.
She had no trouble keeping up her pace, and when she reached the 37-kilometer point, her time was only three seconds per km slower than Kipchoge's record at the same point. She was cruising to a fantastic world.
Magdalena Shauri of Tanzania finished third, nearly six minutes behind Sheila Chepkirui of Kenya.