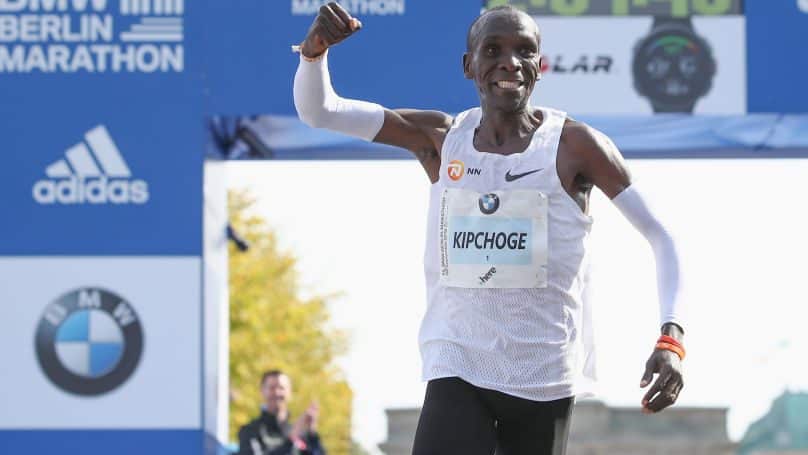 The two-time Olympic champion and world record holder Eliud Kiochoge won his fifth Berlin Marathon title on Sunday.
In a thrilling display of endurance and speed, Eliud Kipchoge clinched his fifth Berlin Marathon title on Sunday, September 24, clocking an impressive time of 2:02:42. Kipchoge's pace initially hinted at the possibility of a new world record, as he swiftly dominated the first half of the race.
Despite the strong start, the Kenyan marathoner could not surpass his own astonishing world record of 2:01:09, set two years prior. Nonetheless, his performance in Berlin further solidified his position as one of the world's premier marathon runners, demonstrating exceptional consistency and fortitude.
Kipchoge now holds the distinguished title of being the first runner to secure victory in the Berlin Marathon five times. In another notable achievement at the Berlin Marathon, Vincent Kipkemboi from Kenya secured the second place with an impressive time of 2:03:13.
Following closely behind, Ethiopia's Tadese Takele claimed the third spot, finishing the race in 2:03:24. Both Kipkemboi and Takele made their debut at the Berlin Marathon, making their remarkable performances all the more commendable. In the women's race, Ethiopia's Tigist Aseffa shattered the women's marathon world record with a stunning 2:11:53 finish.
Aseffa's spectacular performance has eclipsed the previous record by more than two minutes, a record that was held by Brigid Kosgei with a time of 2:14:04 set during the Chicago Marathon on October 13, 2019.