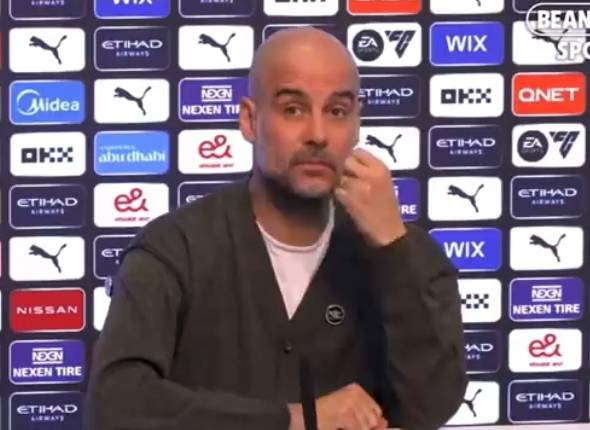 The arrival of Brighton & Hove Albion this weekend will present Manchester City's players with one of their "toughest tests" in the Premier League this season, according to manager Pep Guardiola.
Guardiola stated on Friday that "everyone is fit except Kevin" De Bruyne, who is recovering from a hamstring surgery, despite the fact that the triple winners had 17 players abroad with their nations.
After falling to third in the standings following back-to-back league losses before the break, City will try to turn things around.
If Guardiola loses on Saturday, it will be just the second time in his managerial history that he has dropped three straight games.
The Italian manager of Brighton, Roberto De Zerbi, who is expected to succeed Guardiola at City, received great praise from the Spaniard.
With a win, De Zerbi's team may pass City, who are now in sixth place, by two points.
"I admire (De Zerbi) for the fact that it doesn't matter for the team he plays," Guardiola said.
"He's proving you don't need to be at top clubs where you can get the team to play the way you want.
"He is converting Brighton into a top club. I enjoy watching Roberto De Zerbi's teams play.
"Brighton will be one of the toughest test we will have this season."
Guardiola only suffered three straight league defeats in 2015 while playing for Bayern Munich.
Erling Haaland, a striker for City, should win the 2023 Ballon d'Or, the Spaniard also told reporters.
The Norwegian, one of 30 nominees for the trophy, helped City win the treble last season by tallying 52 goals in 53 games.
"So, Haaland should win, yes," Guardiola said. "We won the treble and he scored 50 million goals."
The seven-time Ballon d'Or winner and Inter Miami star Lionel Messi, who helped Argentina win the 2022 World Cup, will be Haaland's strongest rival.
"The Ballon d'Or has to be two sections.
"One for Messi, and (a second category) for the others," Guardiola said.
"The worst, the worst, the worst season of Messi is the best for the rest.
"Both (Messi and Haaland) deserve it."
Haaland, a 23-year-old City striker, with eight goals this season in 12 appearances.