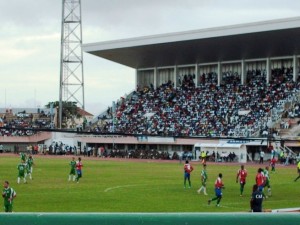 Police in the Upper River Region of Gambia have arrested 17 people following violence that erupted during a football game between Sabi FC and Etiole d'Guinea, the Daily Observer has learnt. The tournament sponsored by Youki Drinks was played at the Basse Mini-Stadium and attended by hundreds of fans.
According to the Observer.gm, Etiole d'Guinea led one nil during the interval, but Sabi FC equalized in the 48th minute. In the 50th minute of the second half, the referee, Alhagie Bah, awarded a penalty to the Guinean team, which was converted.  said that when the penalty was scored, one of the angry fans of Sabi FC started insulting the referee and he was subsequently arrested by PIU officers, which made other fans to get angry and demand that the boy be set free.
"When the boy was set free by the PIU officers, tempers flared up as the fans and footballers were angry with the referee's penalty decision. The same fans started throwing bottles, stones among other things at their opponents," our source added.
The source further stated that in order to control the situation, the PIU officers decided to intervene as fans were throwing stones and broken bottles at each other.
Many people sustained injuries including the referee Alhagie Bah, and the URR deputy police commissioner, Kemeita Sambou, who was also hit by a bottle on his head. "Some of the Sabi FC fans were then arrested with bottles, stones and axes among others, with the help of the security officers and are currently detained at the Basse Police Station, helping police in their investigations," the source added.