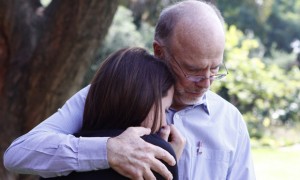 Arnold Pistorius, Oscar Pistorius's uncle, speaks publicly on Saturday, three days after Oscar's girlfriend Reeva Steenkamp was found shot dead at his home. Speaking alongside Oscar's sister Aimee, he 'strongly refutes' Pistorius's charge of premeditated murder, saying Oscar and Reeva were planning for the future and 'Oscar was happier in his private life than I have seen him for a long time'
The family of sporting idol Oscar Pistorius have broken their silence about the fatal shooting of his girlfriend and vehemently protested his innocence.
Pistorius, dubbed the "blade runner", is in police detention facing a charge of premeditated murder after model Reeva Steenkamp was shot dead at his home in Pretoria last week.
The Paralympian's uncle, Arnold Pistorius, said that forensic evidence from the crime scene shows that he did not knowingly kill Steenkamp. "After consulting with legal representatives, we deeply regret the allegation of premeditated murder," he said, reading an emotional statement at his home in Pretoria on Saturday. "We have no doubt there is no substance to the allegation and that the states own case, including its own forensic evidence, strongly refutes any possibility of a premeditated murder or indeed any murder at all."
[youtube]http://www.youtube.com/watch?v=sorw9RLhT4k[/youtube]
Read also:
http://en.africatopsports.com/2013/02/17/seria-a-balotelli-sees-himself-improving/