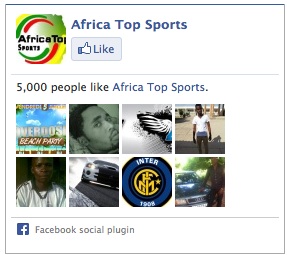 5 000 the number of fans of our French facebook page continues to expand and move to a new!
Thank you all for your loyalty and your attention!
Africa Top Sports.com settles well as the first African sports website on the continent but also in Europe, the Caribbean, the United States. Many of you are in the Diaspora to follow us on our French and English sites. The visits have doubled in the last days!
The first Pan-African and bilingual portal on the sport that was launched in July 2012 in Lomé during the London Olympics also reinforces structure and partnerships to better cover the news. Africa Top Sports is also available on mobile apps. Be connected anytime!
Do not hesitate to contact us, to comment on our website or on social networks (Facebook and Twitter) and enjoy our small space of ads for free to vehicle a message, find a job, make your club known, your association for fans! Send us photos and videos, we will post them! This community space is yours!
Of course, do not miss the tickets of Basile, the Ambassador Africa Top Sports.com Boli on his blog,.
Finally, if you want to get a campaign on our website, our sales team can assist you and put it in the best conditions online. Contact us on the mail [email protected]
Thank you again for your loyalty.
And fast on Twitter and Facebook!
Also reviewing our news!
The editorial team