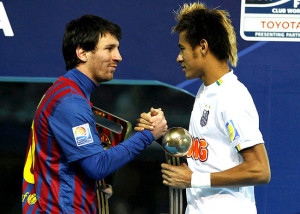 Neymar would be better paid than Messi?
The salary of the new striker would far exceed that of the quadruple golden ball.
According to the website UOL, taken back by sambafoot, Neymar could receive an annual salary estimated at 19 million euros if you count his salary and other collective and individual premiums. The star of the club, Lionel Messi is paid € 13 million, a little more than Xavi and Iniesta (10 million per year).
This news will certainly make Joe Barton react. The latter violently attacks the young Brazilian on his blog. He believed that Neymar is subject to exaggerated advertising and he is not talented as big players like Messi and Ronaldo.